Entertainment
Entertainment at the beginning of the century was provided at local Church Halls and open spaces with travelling fairs and circus's, which where regular visitors to the town.
In 1886 money was raised to build a Public Hall. known as the Harwich and Dovercourt Public Hall Co. Ltd. with Mr John Robson Pattrick as Chairman. The building provided entertainment for local residents to enjoy. The foundation stone was officially laid on the 19th May 1886 on the junction of Main Road and Ferndale Road. The building cost £1650, at the second AGM, declared an income of £205 and expenses of £138, leaving £67 were available for distribution to shareholders. Eventually a 5% dividend was declared and £33 was kept in Reserve Fund.
The auditorium could hold 500 people, had a large stage and 5 dressing rooms, the use was varied from pantomimes to amateur dramatic performances in aid of the Harwich Soup Kitchen, from concerts to public meetings. It was converted into the Masonic Hall in 1907.
Dramatic Performances 1895.
In aid of the Boys, Brigade, Harwich. Dovercourt Schools, and Harwich and Parkeston Cricket and Football Clubs, two dramatic performances were given on Tuesdays and Wednesday evenings, the reserved seats and gallery were but poorly patronised. At eight o'clock the curtain rose, and the comedietta, in one act, entitled "Bubbles", was well staged. The one-act comeditetta, "My uncle's Will", was next on the programme and proved to be very enjoyable. The entertainment concluded with a farce, entitled "A Regular Fix", which was most amusing. Each and every performer took his part in a manner reflecting great credit, and showing that a large amount of time and patience must have been expended.
Other performers at the Public Hall included, Tomkinson's Royal Gispy children and Gipsy girl Orchestra. Mr Arthur May's Lyric Gems, Broadbent and Stelling's London Repertoire Company who occupied the stage, performing well-known plays such as "The Streets of London", and "East Lynne"
Madame Antoinette Sterling, the famous singer, visited the Public Hall in 1907, with a first –class concert party, and attracted a large and appreciative audience. Madame Sterling sang all her old favourite songs, and was enthusiastically re-called time after time.
John Robson Pattrick dissolved the company and decided to sell the Public Hall at auction. It was sold on 26th August 1904, being acquired by the Masonic Hall Co Ltd.
Toft Tate's Motley Merrimen
Mr Fred Toft and his Motley Merrimen were great favourites with local people. 'They gave a merry and bright al fresco entertainment' which was enjoyed by young and old alike. They first appeared on the Harwich Green Enclosure on July 26 1913, and performed during that summer, ending with a farewell concert on September 5. Shows were also performed at the Electric Palace and Dovercourt Park. Tickets were 6d and 3d, or 1d if you stood on the promenade. The Pierrots were regular entertainers for many summer seasons. This group shot includes a young Tommy Brandon having his first season with the troupe and who went on to fame with the B.B.C. The cast took it in turns during the season to have benefit performances where the audience could show their material appreciation of the performers. As early as 1906 a Mr Heap was making arrangements for Pierrot performances in the bandstand. with 3 performances a day.
Fred Toft
My Great Granddad, Fred Taylor – stage name Fred Toft, was a Professional Entertainer. He played almost every Theatre , Music hall and Concert Pavilion of note throughout the British Isles. He was a member of the Motley Merrimen Pierrots, in 1913 and 1914 they were doing shows at Cliff Park, Harwich and the Band Stand on Dovercourt seafront. He served in the first World War and after the war formed a company of entertainers called The Pompadours who put on shows at the Alexandra Theatre on Marine Parade. His daughter Doris Toft (my grandma) was a member of the Juvenile Busybodies, they did shows in Cliff Park and at the Alexandra Theatre in the early 1920s. Doris and her sister Jennie joined Ethel Barton's Dance Troupe in 1926 performing at Theatres all over the country from 1926-1930.
So followed the same profession as their Father.
Information and photos by kind permission of Wendy Jackson. 
Tommy Brandon
"Little man who had a big name in radio and theatre entertainment."
Tommy Brandon was born in Nelson, Lancashire on the 16th January 1897; he started his professional career in concert parties, and played in Variety shows, Panto mimes, etc. He served in the East Lancs Regiment in the First World War and on returning to Harwich he got married in 1918 to a local girl. Tommy was well known to Harwich and Dovercourt where he sang in 1914 as a 17 year old boy soprano. he also entertained with the famous Pierrot showmen, Toft and Tate, on Harwich Green. Ernest Longstaffe gave him his first radio broadcast in 1937, and during the war was constantly featuring in "Workers Playtime" His radio shows include. Old Mother Riley," " Old Town Hall," " Henry Hall's Guest Night," " Music Hall," " Navy Mixture," "Welsh Music Hall," " Children's Hour," "Workers' Playtime," and George Elrick's "Band Party.
Cliff Pavilion
For over 40 years the Cliff Pavilion hosted countless dances, exhibitions, concerts and shows. Performances within the Band Pavilion were many are varied. 300 people could be accommodated with the audiences seated in different types of deck chair. Traditional dances were regularly held; well-known bands and orchestras were brought to Dovercourt as one-offs or for the season. Local talent contests were held, along with children's entertainers and competitions for children.
Many people were sad to see such a local landmark disappear with nothing tangible to replace it.
Every Night.
An agent named Norman Crumbie used to present a full programme in the late fifties running from Melody Nigh on Sundays, discoveries on Tuesdays, housewives nights on Thursdays, and concerts three nights a week. Mr Tett and his wife used to run old-time dancing on the Monday nights.
Other events included a visit by Bamber Gascoigne to run a "university challenge" night between local schools, Girl Guides and the Scouts.
Cliff Pavilion to be demolished.
The Cliff Pavilion where showbiz personalities like Bob Monkhouse, Wilfred Pickles, and Bamber Gascoigne have appeared is meeting a slow, untidy end. It is due to be swept away by the sea defences on Dovercourt seafront, and is suffering piece meal demolishment, some of it is being done by the contractors, but they seem to have had plenty of help from vandals.
The good old days when orchestras were booked for seasons and the pavilion was crammed with people attending the weekly dances.The dances stopped for a while during World War II, but as soon as there was an inkling of peace, they began again. Names like George Howard's Band and George Palmer's Band cropped up in the advertising columns frequently, as being booked for seasons as the Cliff Pavilion. The interior of the building was always pleasing with plants decorating the platform and flowers also growing inside the building.
Eugenie Magyar 
One very popular performer was Eugenie. This superb string orchestra translates into pulsating melody, the restless, defiant spirit of the Roving Hungarian Gipsy, the fierce compelling urge of the Russian for unfettered self-expression, and the rich sensuous atmosphere of the pleasure loving Viennese. The orchestra renders these romantic and picturesque airs with a vigour and sincerity that is impossible to resist. All tastes are however catered for in the unique and attractive programmes. Described as the Royal Command Violinist and accompanied by his Magyar Orchestra, he entertained locals and visitors nightly. For the 6d admission, Saturday night was party night 'with old tried favorites'. Monday was the singsong night And Tuesday was novelty night. Wednesday was request night and Thursday was especially for 'music lovers'. When the Cliff Pavilion was eventually demolished, many people lamented the end of such a focus for holidaymakers with nothing planned to replace it.
Nat Gonella and his Georgians.
English jazz trumpeter born Nathaniel Charles Gonella born in London, perhaps most notable for his work with the big band he founded, The Georgians, during the British dance band era. His vocal style was reminiscent of Louis Armstrong, though the voice was often eclipsed by his achievements as a band leader and trumpeter. In 1933 Gonella published a book called Modern Style Trumpet Playing – A Comprehensive Course. In the same year he made uncredited appearances in the films Bitter Sweet and The King's Cup.
Gonella's standing grew even more quickly after the formation of his own band, The Georgians, in 1935. The band took its name from a highly-popular version of the song "Georgia on My Mind" that he recorded for Lew Stone in 1932, and which became the trumpeter's signature tune. The Georgians began as a featured band within Stone's shows, before setting up as an independent unit.
Gonella formed his own big band, and quickly became a headline artist on the still-thriving variety circuit, and they continued to top bills around the country until the outbreak of World War II.
Nat Gonella died at his home in Gosport on 6 August 1998, aged 90.
Gonella was a down-to-earth and unassuming character, and remained so throughout his life.
Eileen Alannah Joyce 
Eileen Alannah Joyce (1 January 1908 – 25 March 1991. Eileen Joyce's mother was Spanish and her father, an itinerant labourer and mining prospector,  Eileen was born in the mining town of Zeehan, Tasmania and brought up near Boulder City in Western Australia. Educated at St Joseph's Convent, her first instruction at the piano came from her mother. after three years in Leipzig, Joyce travelled to London with a letter of introduction to conductor Albert Coates from Teichmuller in which he wrote, 'Eileen has a rare piano talent of special originality and high intelligence. She plays the really difficult Concerto of Prokofiev quite wonderfully.' Joyce knocked on Coates's door, and they played through Prokofiev's Piano Concerto No. 3 in C major Op. 26 together. After thirty years of intensive concert schedules, Joyce retired from the concert stage in 1962; but her popularity led her to make one more appearance at the Royal Albert Hall in London in 1967 when she played Rachmaninov's Piano Concerto No. 2 in C minor Op. 18 with the Royal Philharmonic Orchestra.
On 21 March 1991 she fell in her bathroom, fracturing her hip. She was taken to East Surrey Hospital, where she died on 25 March. On 8 April she was cremated and her ashes were interred at St Peter's Anglican Church, Limpsfield, next to Sir Thomas Beecham.
'Her playing had remarkable weight of tone and was unfailingly musical.'
Tony Linnell and his Orchestra, featuring- Audrey Hemmerde, Robert Keys, Ken Hutten , Art Hill. Other performers at the Cliff Pavillion included. Harry Cramer and his Orchestra, Arthur Williamson and his Orchestra, Ralph Russell, Rupert Harvey, Derek Willis and his band, The Zodiacs, Len Hazell and his Band, Derek Willis and his Band, The Ashdons Olde-Time Dance Orchestra,The Royal Strathmore Orchestra, Guy Magrath and his Orchestra. Jimmy Pilgrim and the Strangers,
Wilfred Pickles OBE
Born in Halifax, Yorkshire, Pickles was a proud Yorkshireman, and having been selected by the BBC as an announcer for its North Regional radio service, went on to be an occasional newsreader on the BBC Home Service during World War II. He was the first newsreader to speak in a regional accent rather than Received Pronunciation, "a deliberate attempt to make it more difficult for Nazis to impersonate BBC broadcasters", and caused some comment with his farewell catchphrase "… and to all in the North, good neet".
After 21 years the programme had travelled 400,000 miles and had visited every part of Britain, including several offshore islands, and the Forces in Germany. It never went anywhere twice, having gained at least 1500 outstanding unvisited invitations.
But the members of the British public whom he celebrated and were his listeners took a different view. They adopted his catchphrases – "Ow do, 'ow are yer?' and 'Are yer coortin'?' – And he was content simply to wish for the epitaph 'He were a champion fella!' The Wilfred Pickles radio show Have a Go,  visited the town after the 1953 floods to record interviews with local people. The BBC was considerably less broad-minded in those days, one woman referred to emptying a peepot out of the bedroom window into floodwaters, but this was cut out of the broadcast version.
Gracie Cole
Gracie Cole was born on 8 September 1924 in Rowlands Gill, County Durham. Her father Albert moved to Yorkshire in search of work as a miner when Gracie was two years old. Albert played cornet in colliery bands, and taught Gracie to play the cornet at the age of 12. Gracie played with local brass bands in her teens, including the Firbeck Colliery Band alongside her father. In 1939 aged 15, she made her first broadcast on BBC Radio for Children's Hour. From 1940, Cole appeared as a guest soloist in two concerts with the Besses o' th' Barn brass band, and played with various other bands.
Later in 1942 Cole switched to being a dance band trumpeter, initially joining Gloria Gaye's All Girls Band, who toured playing theatres and forces entertainment shows organised by the Entertainments National Service Association. She then joined Rudy Starlita's All-American band, entertaining American G.I.s. In November 1945 she joined Ivy Benson's band as lead trumpet and soloist, and toured with them for the next five years, headlining at variety theatres in Britain and touring Europe and the Middle East with ENSA. The band also featured on television and radio, including their own radio series Ladies Night, and on Christmas Day 1945 Cole was the featured soloist on a live broadcast from Hamburg immediately after the King's speech.
In 1951 she married Bill Geldard, a trombonist with the George Evans Band, and accepted an invitation to join the previously all-male band. After 18 months she and Geldard left to join the Squadronaires, the most influential big band of the time, where she was again the only woman. However Cole found the male prejudice she experienced there made life uncomfortable, and she left to form her own all-female band, which she fronted between 1952 and 1956 performing at the Cliff Pavilion in 1956. The band performed jazz and pop, and broadcast with guest singers including Cleo Laine. In 1958 she led an all-male band at Mecca Ballrooms.
From the 1960s Cole concentrated on bringing up her two daughters and played on a freelance basis. She was active in encouraging local brass bands, and was made a freeman of the City of London in 1990.
Cole developed Alzheimer's disease towards the end of the 1990s. She died on 28 December 2006 in Westcott, Surrey aged 82.
Freddie Randall and his Band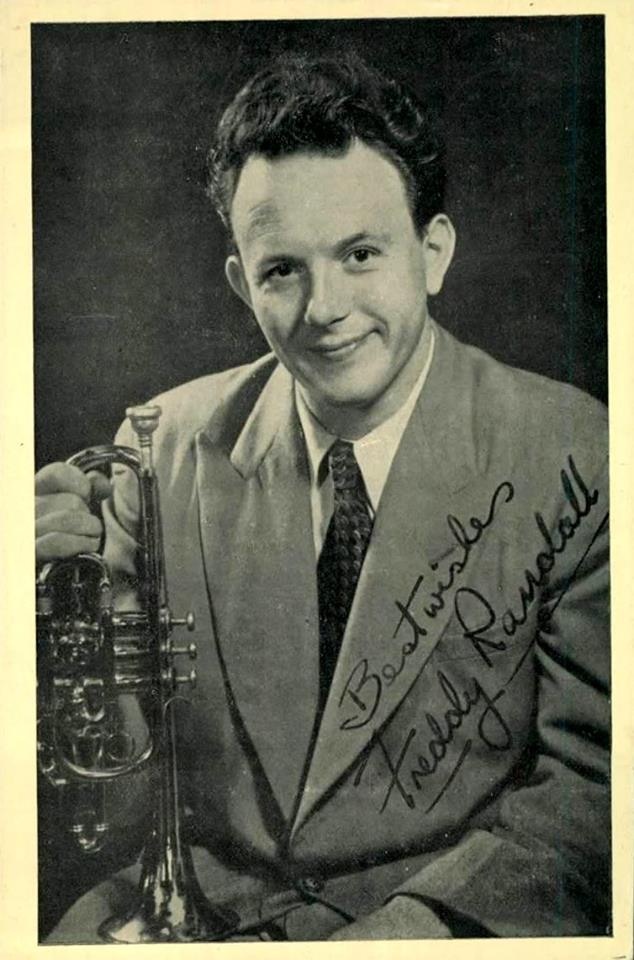 Reckoned to be one of the foremost Dixieland bands in Europe, Freddie Randall is coming to the Cliff Pavilion, Dovercourt on May 5th 1957, the stage band show is part of the band's tour of the British Isles. Freddy Randall will personally appear and treat his audience to a number of his popular trumpet and vocal solos. Frederick James 'Freddy' Randall (6 May 1921 – 18 May 1999) was an English jazz trumpeter and bandleader born in Clapton, East London. Randall led the St. Louis Four in 1939, and played as a freelance sideman in the early 1940s.
He served in the military during World War II, and then played with Freddy Mirfield in a group featuring Johnny Dankworth. After the mid-1940s he led his own Dixieland jazz groups which featured many well-known English trad jazz stars of the era. He quit music between 1958 and 1963 due to lung problems. In the mid-1960s he began recording again, playing with Dave Shepherd and recording for Black Lion Records in 1972-73. He played with Americans such as Sidney Bechet, Bud Freeman, Wild Bill Davison, Pee Wee Russell, Bill Coleman, and Teddy Wilson.
He finally gave up playing and retired to Teignmouth in 1993 and shortly afterwards began to suffer from Alzheimer's disease.  He died aged 78 on 18 May 1999 in Teignmouth, Devon.
Photo (c) The National Jazz Archive.
Harwich and Dovercourt Choral Society
Although Harwich and Dovercourt Choral Society were first mentioned in the press as early as 1891 it was not until 1921 that the society in something like its present form appeared. their first performance being an oratorio by H W Nichols "Persephone" conductor by Harry Wright, who may well be viewed to have founded the group. The group progressed so quickly that inside three years they had joined the Essex Music Association and began taking part in competitions, gaining two firsts and a second in their very first year. However in 1936 Harry Wright retired due to ill health and Mr W F Mahoney took over. In 1940 the war had reduced numbers so much that the group was forced to disband, but by 1946 Harry Wright had restarted the group and members old and new had started to sing again.
The Standard's review of the society's first performance at Cliff Road Congregational Church.
"Persephone"
The general opinion as to the rendering of "Persephone" in the Congregational Church, Cliff Road Dovercourt on Wednesday last was absolutely unanimous. The singing and the music by the orchestra was excellent and left nothing to be desired. The dramatic representation of the Greek myth of Demeter and Persephone, by H E Nichol, Mus. Bac., Oxon, provided good scope for local talent. His worship the Mayor opened the argument. Throughout the music is such that one could listen to with pleasure. Miss E Riches (Demeter) was the soprano soloist, and Miss Howat (Persephone) the mezzo-soprano soloist. Mr Fred Shillam (Baritone) took the part of Priest of the Temple of Eleusis. The whole company sang well and the soloists well chosen. Mr H S Wright is to be congratulated on the success of the company and we hope to have the pleasure of hearing them again. Miss Main L.R.A.M., was the pianist, and Mr W Gray the conductor of the orchestra. We anticipate that a good sum will be handed over to the Congregational Hall Organ Fund.
The word Harwich was dropped from the society's name, becoming known as the Dovercourt Choral Society sometime during the thirties, but in 2015 members voted to return to the original title of Harwich & Dovercourt Choral Society.
The choir has performed at a variety of venues, not only in the town but further afield with the Essex Music Association at Thaxted and Chelmsford, as well as at the world famous Snape Maltings with Choirs from Witham and Ipswich. They are regular participants at the Harwich Festival, frequently appearing at the Last Night Concert.
The choir's current "home" is the Central Church Dovercourt where rehearsal takes place on Monday evenings, with Concerts being held at Christmas and Spring as well as the Festival Concert performing a wide variety of pieces from Handel to Gershwin.
(c) Harwich Dovercourt Choral Society. http://dovercourtchoral-public.sharepoint.com/
The Grange Brass Band
The Grange Brass Band was called after the premises in which the evening class rehearsals were held in Fronks Road. The first conductor was a Royal Marines Bandsman and then was conducted by Royal (Nat) Wringe who ran a general store in the old part of Harwich near the lighthouse. On Nat's retirement it was conducted for six years by David Cawdell, an ex-Irish Guards Bandsman.
Several Harwich Salvation Army bandsmen played with the Grange Band for a while in the personal belief that it wasn't a real 'outside band' as it did not give concerts but just an evening class where they were developing their skills in musicianship which would benefit the SA.. The Corps Officer took a different view and made the bandsmen choose between the SA or the Grange band.
Several left the SA because of it. The 'rift' was to last for two decades before it was healed with the Grange Band being invited to give a concert in the SA hall. I was the conductor at the time and was careful to choose a suitable programme, bridging the gulf between SA and 'outside' band music by choosing several Eric Ball pieces. Eric Ball, the famous brass band composer, was also in a similar personal dilemma, torn between the sacred and secular with spectacular success in both fields.
When educational cut-backs closed the Grange Centre the band became self-funding and for a time hired several rehearsal venues including Methodist churches and the back room of the Phoenix public house down on the sea front. They finally settled in the old drill hall during which time it was redecorated and used as a Community Centre. (c). David Cawdell.  www.brassbandsman.com .
Pearl Foote Accordion Orchestra
The Orchestra was formed in 1966 by eighteen year old Pearl Foote and it later became the Harwich Accordion Orchestra. It was formed from a nucleus of children from Parkeston Junior School plus others that were taught in Dovercourt. The Orchestra would perform locally and take part in competitive music festivals further afield. In the photograph is ( left to right ) Elaine Saunders,Kay Harper, Donna Garland, Barbara May, Pearl Foote. Back row David Brodie, Sandra Smith, Jackie ? , Sharon West and Geoff Smith, Drummer Colin ? and Donna Garland's sister. One of the founder members was Alan Driver a very talented musician as was Kay Harper and Barbara May.
The three of them went on to very accomplished soloists.   Information supplied by Pearl Foote
The Harcourt Players
The Harcourt Players was formed in 1948 by a group of amateur actors who had previously performed with the Dovercourt Dramatic Society but now wanted to take advantage of the improved facilities at the old Hill School where there was a thriving Youth Centre Drama Group which took part in County Festivals. The name of the new group, a combination of Harwich and Dovercourt, was devised by Margaret (Peggy) Westlake.
Their first production was Quiet Weekend; a comedy co-written by Esther McCracken and Terence Rattigan in 1941 and which in 1946 was made into a film. The director of the Harcourt Players was a very young Ken Roberts who had recently been appointed Warden of the Harwich Further Education Centre and who went on to direct ten more of the company's subsequent productions. Other early directors were Ruby Raven and Dick Brennan.
From 1949 onwards it was the practise of The Harcourt Players to produce two shows a year and these varied from farce to tragedy including Blithe Spirit, Night Must Fall, See How they Run and Queen Elizabeth Slept Here. In addition to their classical plays The Harcourt Players attended a number of local, regional and national festivals where junior members were encouraged to try out their acting skills in competition against similar groups in a series of one act plays.
The Harcourt Players continued until the mid-1970's by which time they had performed more than fifty different plays ranging from Macbeth to Chase me Comrade and at a wide range of venues. Many of the early performances were held at the old Alexandra Hotel which had a magnificent stage complete with dressing rooms and a hall that could hold several hundred spectators all seated on metal framed canvas chairs that had to be painstakingly arranged in rows by the front of house staff.
Head man for the front of house was Arthur Cyril Moles – a local shop keeper and twice mayor of Harwich. Cyril attended every performance and was always immaculately dressed with a clean white shirt and bow tie.
Key to the work of the Harcourt Players were the back stage staff and chief electrician for many years was Les Mason who lived in Manor Road and for a long time all the sets were designed and built by a local painter, decorator and sign writer Herbie Hinds. Peggy Westlake's father was Stage Manager for nearly all the performances throughout the 1950's and was occasionally called upon to tread the boards as a policeman or ambulance man.
One of the last productions was Lock up your Daughters performed in 1971 and produced by Franc Chadwick with Ruby Raven's daughter Wendy playing a leading role. It was performed in The Harwich Further Education Centre on the site of the old Sir Anthony Deane School which had been the venue for all Harcourt Players performances following the closure of the Alexandra Theatre.
Information and photos supplied by Peggy Westlake, Sam Woolard and The Harwich Society.
Dovercourt Theatre Group
It was in 1974 that a group of people, who were part of the Harcourt Players, broke away and subsequently formed the DTG. The Harcourt Players were first and foremost an entertainment group and a few budding actors felt they would like to perform drama.
The new DTG carried out numerous fundraising events, did some recruiting and rehearsed at the Sports Club .They put on their first production there in 1975 – She's Done It Again, and carried on using this venue  successfully until 1982. The Electric Palace was used for productions over the next few years from 1983-1992 and by now included pantomimes, as well as many classics. After that, we used the Harwich Centre where we continued with our varied programme of productions until 1999.  During all of those years, we had various homes for our scenery, props and costumes.
For many years, the Harwich Society kindly allowed us to store our scenery at the Redoubt and costumes have been moved around from storage places, including the old Parkeston School and even an old container based at the Harwich Centre. It leaked badly and costumes frequently became waterlogged and smelly! We spent many weary, cold and wet hours transporting scenery and costumes to and from various venues.
Dovercourt Variety and Drama Association
A Large invited audience at Cliff-road Congregational Church Hall watched three plays in 1966 titled, "Wedding Morning"  by Gerald Anstruther, " Pandora's Box" by Archie E. Roy, and Colin Cooper's "Riches and Rags".
Only a few of those appearing have ever taken part in a play before." However, despite this, and the fact that only six weeks were spent on preparation the evening's entertainment obviously met with the audience's approval, and as far as the cast was concerned success was typified by the prompter's shortage of work. A notable newcomer to the Association's ranks was Ena Wrycraft who produced the last two of the plays, returning to local dramatics after a lapse of some years. Another newcomer whose work was a highlight of the evening was Glyn Hambly, who designed and painted scenery, doing wonders with a rather difficult stage. The first play offered a humorous view of people in a crisis, the wedding morning, and the dress is irretrievably lost.
A situation which naturally brings the female character to the fore. In fact, the only man even mentioned is the bride's father who is upstairs dressing, the audience are told, blissfully unaware of the drama in the morning-room.
The second play was a drama in the true sense of the word, with a steadily building sense of suspense brought to its height and then suddenly dispelled in a lull before the storm as the slightly gruesome payoff is slammed home. Jackie Brown, playing the highly effervescent little girl of this splay, took a role which was too extreme to be convincing, and far more entertaining was her portrayal of the "typical" country rectors' wife in the last play. But it is a fault of the playwright rather than the actor when a character is stereotyped. The last play was based on the old "money is the root of all evil" theme, but again approached situation and character from a humorous view point. The need to sustain a West Country accent for the length of the play was well handled, especially by the play's outstanding character portrayed by Malcolm Cornes.
Mother Goose
Cliff Hotel. 05.01.1968
The story tells how Mother Goose, at one time poor but happy, has a change of luck, whereby she becomes rich. Her luck is triggered off when her pet goose, Monica, starts to lay eggs of solid gold, and this, incidentally, is the turning point of Mother Goose's happiness.
Because of her newly-found wealth, she nags all members of her family, and becomes a snob. She does not realise that a spell has been cast upon her by Demon Discontent promised to make her beautiful – which she did!
However, as soon as the goose disappeared, Mother Goose became unhappy, and poor once again.
She and the rest of the family became happy once more after an adventure in Goose land, where Monica was restored to her frightful owner, with the help of Fairy Concord.
Cast was:
Yvonne Stannard, Jack
Joan Rudd, Colin
Melissa Crone, Gretchen
Elaine Fidgett, Demon Discontent
Jenni Proctor, Fairy Concord
Ian Milne & Elly Double, Lock & Stock Brokers
Mary Brown, Queen of Gooseland
Kim Parr, Dancer
John Wade, Squire Mandrake
Nancy Gard, Jill
Christine Airey, Nancy Gard
Tom Rutson, Mother Goose
Chris Cone, Monica
Paul Flatt, Messenger boy
Ken Goldsmith, Major Domo
Chas Tett, Cabaret artist
Over 20's club
The Over 20's Club, originally called Parkeston Over 20's Club when it was set up in the summer of 1949, was created for young mothers to have a social evening out.
When the club was founded you had to live in Parkeston, but as the years went on it opened to everyone.
Members of the club would meet at the Co-op Hall in Parkeston, then the tin church in Parkeston, then in the 1970's it moved to Long Meadows, where the club still meets every Thursday evening.
A spokesman, said: "We have 53 members, paying £1 a week.
"We play whist, beetle, bingo, have guest speakers, themed evenings, cheese and wine, strawberry tea, and lots more.
"The Over 20's Club enjoy a summer outing in August and a dinner dance in January which is paid for with the club funds.
"Any left over money at the end of the year is divided between all the members, as we are a non profit-making club.
"We celebrated our 70th anniversary this year with a talk by David Whittle from the Harwich Society followed by lovely cake and some fizz."
The Luney Club
Following the severe floods of 1953 the low lying area of Bathside Bay Harwich was particularly affected. This brought a lot of hardship to the area and obviously affected the elderly. Shortly after this time a group of half a dozen men who regularly met for a drink on Sunday lunchtime at The Anchor public house decided to try and raise money in order to have an annual social dinner for the old age pensioners of Bathside Bay and also to give them a monetary gift at Christmas. After a few weeks one of these men stated that they must be looney doing this each Sunday and they started to call themselves The Looney Club. However even in those days there was a certain amount of political correctness so in 1958 they changed their name to The Luney Club, a luney being a small Canadian bear.
Progress for the club was extremely slow to begin with and it went through difficult times but the Club was never short of willing workers.
In 1999 following a change of licensee at The Anchor Pub it became necessary for The Luney Club to find a change of venue as the new publican wanted to change the Anchor into a youngsters' pub. Our Secretary approached The Harwich Branch of the Royal British Legion to see if they could use their premises and following a committee meeting it was confirmed that we would be allowed to use the Branch for two hours on a Sunday morning for our meetings and fund-raising. We then moved to The S & R Social Club, Dovercourt.
On the 1st March 2013 The Luney Club took over the old Royal British Legion building in Barrack Lane, Harwich and has renamed the building The Luney Social Club.
Information and photos supplied by The Luney Club and The Harwich Society.
Cinema
At the start of this century a new form of entertainment was introduced in towns in Britain. People were excited to see advertisements for 'Moving Picture Shows', and long queues built up outside any halls or broken down huts big enough to contain an audience. Everyone wanted to catch a glimpse of the magic flickering screen.
The equipment was new, and people were so crammed into these ramshackle cinemas that accidents took place involving fires and crushed audiences. The government looked at the problem, and laid down strict rules about how cinemas should be built in the 'Cinematography Act' of 1909.
Through these first years of the Cinema. East Anglia had been home to the father of Kinematography", William Friese-Greene. Friese-Greene was born in Bristol on 7 September 1855 to a metalworker named Green. He added to his surname when he married Helena Friese in 1874. He had lived at 5 Cliff road, Dovercourt. Having moved from London with his second wife Edith and two young children in January 1897, preferring to live in a coastal place, for their first child's benefit. They stayed there until 1904. On 21 June 1889, Friese-Greene was issued patent no. 10131 for his 'chronophotographic' camera. It was apparently capable of taking up to ten photographs per second using perforated celluloid film. In the early 1890s he experimented with cameras to create sterereoscopic moving images but met with limited success.
Friese-Greene's experiments in the field of motion pictures were at the expense of his other business interests and in 1891 he was declared bankrupt. To cover his debts he sold the rights to the 'chronophotographic' camera patent for £500. The renewal fee was never paid and the patent eventually lapsed. Friese-Greene's later exploits were in the field of color in motion pictures. Working in Brighton, he experimented with a system known as Biocolour. This process produced the illusion of true colour by exposing each alternate frame of ordinary black and white film stock through two different colored filters.
Beset by financial troubles including a spell in prison for borrowing money while an undischarged bankrupt, Friese-Greene remained an incorrigible optimist. He died on 5 May 1921 while giving an incoherent speech to a meeting considering the parlous state of the British film industry.  Disturbed by the tone of the proceedings Friese-Greene got to his feet to speak but soon became incoherent. He was assisted in returning to his seat, and shortly afterward slumped forward and died.
A memorial designed by Edwin Lutyens describes him as "the inventor of Kinematography".
As a dreamer more than as an inventor, he has his place as a founding father of British film.
William Friese-Greene. 07-09-1855 – 05-05-1921.
Victoria Concert Hall & Cinema
The Victoria Concert Hall at the rear of the Cliff Hotel was built to provide entertainment Such as films, dances, shows and concerts with seating for over 500 patrons. regular performers included entertainers such as K&K Fragmentos seen here in 1922, and Harry Heath's Concert Party in the summer of 1909 featuring  "The Jolies" . The proprietor in 1921 was Mr.C.Beresford but it appears to have closed as a cinema in 1922.
The Alexandra Theatre
Built at a cost of approx £12,000 the building contained between fifty and sixty bedrooms and was also a popular location for dances and concerts. May 2 1903. In the past few years, much improvement has taken place at Dovercourt, with many Imposing and magnificent business places having been erected. The chief of these can safely be said to be the Hotel Alexandra, which will fill up a much needed gap.
Standing in its own grounds, the new building is the most Palatial building in the whole borough and it should attract many visitors to Dovercourt. The new hotel is to be opened on May 25 with a luncheon, followed on the 27th with a ball, and on the 28th with a concert. Amateur groups provided entertainment and the auditorium would also be used for Private functions and dances.
The Theatre was closed in 1959 when the hotel was sold. The 'Alex' is now a Residential Home.
The Electric Palace
In the early years of the 20th century the travelling fairground Showman" Charles Thurston" was touring East Anglia with his moving picture show which were common at the time, Charles was the eldest son of Henry Thurston, a brick maker, who found success on the fairground. His first venture, independent of his father, was his Royal Show, a two-waggon fronted bioscope which he travelled with his wife Charlotte. Between 1902 and 1907 the show was extensively adapted and refitted to keep ahead with the latest fashions. With the introduction of the Cinematograph Act 1909, which imposed strict fire prevention regulations on any venue in which films were shown to the public, it became effectively impossible to put on a legal film show in a fairground tent. Hence Thurston decided to build a permanent "Picture Palace" in which he could continue to screen films to the public. In 1911 he was able to obtain a lease on a site in Kings Quay Street, Harwich which had become vacant due to the previous building on the site being destroyed by fire. 
Proprietor of Electric Palace from 1911 to 1924 Charles Thurston was one of the pioneers who introduced the Bioscope in place of the Diorama in fair ground shows long before permanent picture houses were established. The fairground cinema was particularly successful in rural areas such as East Anglia; and the Thurston company toured their traveling bioscope around Norfolk, Suffolk until 1910 when the Cinematograph Act foreclosed such temporary performance sites. In 1908 he produced The Great Show which was a combination of Bioscope and Vaudeville. Those who saw it described it as a masterpiece of fairground showmanship.
He engaged the young architect Harold Hooper to design the building, which was to be known as the Electric Palace. Built at a cost of £1,500 the palace opened its doors on Wednesday 29 November 1911.
The cinema was an immediate success and continued to be financially successful through WW1 thanks to the presence of Navy personnel in the port of Harwich. However almost as soon as the war was over business at the "Palace", as the cinema was now called, went into decline due to the loss of population from Harwich to nearby Dovercourt and competition from the newer, plusher, cinemas there.
For nearly four decades the Palace struggled on, never doing badly enough to close, but never doing well enough to justify enlargement or a major facelift. The coming of sound in 1930 gave a boost, but it was short-lived. Then in 1953 the cinema was inundated by seawater due to the East-Coast flood of that year, which forced it to close. Although it was dried-out, repaired and reopened, the floods had affected more than just the cinema, nearby housing had also been affected reducing further the local population.
This proved to be the 'last nail in the coffin', and the Palace closed after 45 years of operation. On 3 November 1956.for the next 16 years the building lay abandoned and largely forgotten until in 1972 it was discovered by Gordon Miller of Kingston Polytechnic, who was leading a group of students on a survey of Harwich. He was amazed to find this virtually unaltered relic of the early period of cinema architecture lying forgotten in a Harwich side street. He was also disturbed to discover that the town council was intending to demolish the entire block of which the cinema was a part to provide additional parking space for Lorries. With the aid of the Harwich Society he obtained a Listing for the cinema as being "a building of sociological interest" in September of that year.
Who Built and Worked in The Palace until it closed in 1956?
Architect – Harold Ridley Hooper of Hooper, Olley and Earwaker, Ipswich, Suffolk.
Proprietor – Charles Thurston 1911 – 1924, Mr Bertram 1924 – 1930, Mr Goldberg 1930 – 1932,
Arthur  Bostock 1932 -1956.
Managers – Frederick Benton, E Protheroe, C. Gilbert, Ernest Burke, Mr Ledbury, Mrs Watson,
Mr C. R. Wade, John Barker.
Chief Projectionists / Operators – John Barker, F Podd, N. Tye, Sid Mills.
Assistant Projectionists – R. Smith, Mr Humphreys, C. Leeks, Mr Hansford.
Pianists – Mrs Benton, Mr Crouch, Tom Rainbow, Jack De Rose, Billy Good, Miss Walker, Doris Farrow, Miss Coombes.
Cashiers – Alice Barker, Miss Wills, Miss Cooper, Miss Mann, Mrs H. Durrant, G. Barton, L. Almazoff, Shrive, L. Lacey, K. Sneddon, M. Kingsley.
In April 1975 the Electric Palace Trust was formed with the aim of restoring the building so that it could, again, be used as a fully operational cinema. The council granted a "repairing lease" to the Trust in May of that year and restoration started, initially using mostly volunteer labour. Later the council was to sell the freehold to the Trust. The cinema reverted to its original name of Electric Palace, The grand Re-opening was on 29th November 1981, the 70th anniversary of the original opening,The Electric Palace now runs as a community cinema showing films every weekend.
The Empire
Local builder Edward Saunders and Harwich borough council mayor saw the potential of this form of entertainment, they commissioned an architect to design a theatre. A site in Kingsway was chosen and on the 29th of March 1913 without official ceremony. The Empire opened its doors to the public; the cinema could accommodate 350 patrons and would show various stage shows and films.In part of its air-conditioning a duct in its ceiling was said to have originally been part of a mast from one of the J class yachts that raced each year in what became the Harwich Regatta. 1915 the Empire was still offering the best entertainment for the Harwich area with a bill of top acts. Silly comedienne Elsie Cross whose humour was described as "quaint in the extreme". she was also well known for her funny songs which were guaranteed to bring the house down. Welda and Wynne were also lined up to top the bill at the Empire, the couple, particularly the male partner, were visual comedians who specialised in juggling.
An evening of comedy would not be without funny film from keystone caper called laughing gas.
The Bostock cinema group purchased the cinema on the 1st January 1929, the new owners Considered the building too small to meet the growing cinema audiences and looked for a new site to build a larger cinema, on the 31st may 1938, Empire's manager Mr Gilbert Smith locked up for the last time, the following day together with his staff they opened the new building the Regal.
Memories
Alone I went to The Empire when I was thirteen years old and having walked from Oakley I was very nearly in tears because they would not let me by, I was too young to see, but a kind lady took me in, with twenty "halves" like me. But certificate "U" or Certificate "A" didn't mean much to me, it was treasure island and beary I had come to see.
The Regal
The official opening of The Regal, Dovercourt's newest luxury cinema, marks an important step in the progress of the town from an entertainment point of view, for it brings it into line with all that is latest and best in the matter of cinema entertainment.
This addition to the Bostock Cinema Circuit is a fine tribute to the enterprise of Mr. Douglas F. Bostock who has brought to Dovercourt a cinema that is the last word in comfort and convenience.
On the  28thSeptember 1936 work commenced on clearing the site at Hill Crest where the town's largest cinema would be built. Designed by J.Owen Bond and Son.the Regal Cinema was opened by Alderman J.Cann jp on 1st June 1938 and was Advertised as a glorious rendezvous with all the enjoyment and comfort that Could be anticipated, with air conditioning and the latest electronic sound System. Although Harwich and Dovercourt already had three cinemas, it was felt that a fourth would give greater selection of films to the discerning public. In those pre-television days the local populace regularly attended the cinema and as there was a complete change of programme twice weekly, it was possible to see a different film every night of the week. With the opening of the Regal, cinema-goers had for their enjoyment a theatre that left nothing to be desired, and it was indeed the last word in luxury. Built by Thomas Gill and Son of Norwich, specialists in cinema construction, its neon surrounded tower formed a landmark to all shipping entering the harbour.
In order to render it fire-resistant the building was constructed from the maximum amount of steel and concrete, had automatic steel shutters to isolate the projection room from the auditorium, and exits were so numerous that the building could be cleared in a few minutes.
Entrance to the cinema is through the wide modern doors and in the teratzo inlaid vestibule will be found two pay boxes in order to minimise any waiting time to obtain ticket. The entrance to the theatre is by doors on either side, or to the circle by the main staircase leading up from the rear of the vestibule.
This staircase also leads to the attractive café which will be open for the serving of refreshments each day.
The theatre, seating 950, was fully air-conditioned and 750 cubic feet of washed and filtered air per hour per seat was pumped into the building. One purpose of this was to guard audiences against chills and colds because no matter what conditions prevailed outside, the temperature inside was always constant. The sound equipment was by Western Electric who were at that time acknowledged to be leaders in motion picture engineering.
The auditorium was heated by thirty radiators and over eight miles of Edison Swan cables were used, together with six hundred light bulbs. An independent source of emergency lighting could automatically go into operation should the town supply fail.
The prices of admission in 1938 were: Balcony 1/8d. and 1/6d and stalls 1/6d. 1/- and 1/6d. – all including Tax. The Box Office was open daily from 11 a.m. to 9 p.m. and a free Car Park was available for 300 cars.
The performances were continuous from 1-30 p.m. to 10-45 p.m. and each show ran for over three hours.
Two films showing on the opening night were 100 Men and a Girl, starring Deana Durbin, and Two's Company with Gordon Harker. and the British Paramount News. Future presentations included Jack Buchanan and Elsie Randolph in "Smash and Grab", Ronald Colman in "Lost Horizon" and Sabu in "Elephant Boy". A popular innovation was the Café on the first floor, which was open daily from 12-30 p.m. and where patrons could meet their friends before or after the show and enjoy luncheons, teas and light refreshments. The proceeds of the first night where donated to the local hospital.
Changes to lifestyle and television had taken its toll on the Regal. on 10th June 1972 after showing the last film "Gumshoe" with Albert Finney and Billie Whitelaw the Regal closed its doors as a cinema. after a Quick makeover the ground floor was re-opened on 28th June 1972 as the Coronet Bingo Hall, and the balcony a few weeks later as a Snooker Hall.
Final Curtain. 
The curtain came down at the Regal Cinema on Saturday evening to mark the end of an era. Once the town boasted several cinemas, but with the decline in the film industry, one by one they closed. The cinema went out with a whimper; Very few people attended the final showing. Manager Mr E. Hempstead, in the box office for the last time, commented; "It is a very sad day for me. " Mr Hempstead, who has been in the cinema business for 36 years,
A few people had commented that it was a pity to close the cinema, but nobody had turned up for the last show for nostalgic reasons.
With the advent of Television and its increased popularity, the magic screen, as a form of mass escapism, gradually waned and the once great temples of Hollywood's Gods and Goddesses slowly lost their influence.
After demolition in 1989 the site was left empty for several years before Alldays opened their store here.
Memories
The Regal cinema opened its doors when I was just fifteen with Deanna Durban my favourite girl upon its shimmering screen. For sixpence or for one and three, from two til half past ten, one could See one's dream on the silver screen. My first love on the silver screen meant the entire world to me It was 100 men and a girl. I stayed on and on to see.
The Regent
On the 26th January 1927 the Regent theatre opened its doors for the first time,the building was fitted with the latest heating and ventilation systems', seating was provided for 500 patrons. It was owned by Mr.S.E. Crees and later Mr.Walter J.Balls who continued as manager after the Cinema was taken over by the Bostock cinema circuit. Between 26th October and 11th November 1936 the cinema was closed for modernisation. A vestibule was built on to the front of the building to enable tickets to be purchased under cover. Swing doors were also installed to prevent cold air entering the auditorium, Falling audience figures in the 1950's saw the Regent close its doors for the last time as a cinema on 3rd of October 1959.
Memories
At 14 aunty gave me sixpence on a Saturday and for a third of that amount, once could see the Regent matinee, the place was packed with shrieking kids with no respect for others, the shouting drowned the cinema sound, with sisters worse than brothers. But bawling boys and crying girls didn't mean much to me. It was Pearl white and Tom mix I had come to see.
Warner's Theatre and Pavilion
Warner's Holiday Camp at Dovercourt Bay contributed in its own small way, to the cinema's Of Essex. The camp opened for 500 visitors in 1937 and films were shown on a part-time Basis in the small camp theatre. The camp closed for the duration of the Second World War. When it was used by the Army. During the 1950s the former theatre was used as a T.V. room With a projection system. T.V. Films were shown again here from 1960 but the cinema was Eventually converted in to the Cellar Bar.
By this time the camp had been enlarged to accommodate Around 900 guests and a new wooden pavilion seating 120 was constructed to be used as a cinema And for the children's 'Wagtail Club'. During the mid-1970's. Warner's allowed the cinema to be Used for fund-raising public film shows to aid the restoration of the Electric Palace at Harwich.
The pavilion survived until the Dovercourt Holiday Centre closed in 1988 although for some time It had operated with a system of videos. The camp was used in the filming of the BBC's Hi-Di-Hi' Programme but was totally demolished in the autumn of 1992.
Entertainment Gallery
We hope you will enjoy browsing these wonderful photographs of Harwich and Dovercourt.
We are adding more information to this site on a regular basis, if you wish to submit any photos or provide any information, please use the contact page at the bottom of the screen.
Acknowledgements:
Electric Palace, The Luney Club, The Harwich Society for all their help in allowing the use of text and photos. Some of the information is taken from the books of Phil Cowley, Harwich and Dovercourt in Old Picture Postcards.