Publications
Harwich and Dovercourt have had their history well chronicled by Len Weaver in his two books, so this is not an attempt to produce another history of the Borough; rather, it is designed to show, through a selection of postcards from Phil Cowley's collection, how the area has changed during the period from the late 1800s to 1930. Changes have been dramatic and local readers will probably not remember many scenes in the book. However, those who know the area as it is today may compare it with the old view and decide whether change has been for the better.
Picture postcards were not licenced in the U.K. until 1894, These early cards had a short message on the picture side and the address on the reverse. In 1902, postal regulations were changed so that the picture side could remain without a message and the reverse could be divided to allow a message and recipient's address.
Several of the books on this page were written and compiled by the late Phil Cowley, a resident of Harwich. Phil was a true gentleman, a great sportsman and a dedicated teacher. A man loved and respected by all who knew him.
Sadly, Phil passed away shortly after completing the manuscript for his last book, Then And Now, and therefore was unable to see his work in print. It will ,however, be a lasting legacy of his dedication and love of the area in which he lived.
Here we have selected a few books which are available to buy
Harwich and Dovercourt in old picture postcards
Phil Cowley
A selection of old and rare post cards compiled by Phil Cowley and taken from his own private collection. This book has a wonderful selection of old picture postcards and images of Harwich and Dovercourt. Those of you with an interest in images of days gone by will find this book truly fascinating. Reprinted in paperback due to popular demand with all proceeds going to Leukaemia research.
Price £5.99
Harwich, Dovercourt and Parkeston in old picture postcards. Volume 2
Phil Cowley
Since the publication of the first volume in 1992, many people have asked me to compile a second volume. It has taken me years to locate and research this second selection of postcards which have been chosen to represent a broad cross section depicting life in Harwich, Dovercourt and Parkeston during the first forty years of the twentieth century. I trust readers will enjoy this second selection.
Phil Cowley 2001.
**SOLD OUT**
Harwich, Dovercourt and Parkeston in old picture postcards. Volume 3
Phil Cowley
The third selection of old and rare picture postcards from Phil Cowley's own collection illustrating Harwich, Dovercourt and Parkeston.
I have tried in this volume to look at some key events and features from the first fifty years of the 20th century and I hope this volume will bring back nostalgic memories for many and introduce others to the way we were.
Phil Cowley, Harwich, 2004. 
**SOLD OUT**
Harwich, Dovercourt and Parkeston. Then and Now
Phil Cowley
Having compiled three volumes of Harwich and Dovercourt using old picture postcards, a new approach seemed to be needed. In discussion with fellow collector John Sallows, we decided that a 'Then and Now' approach would add a new dimension. We tried to select a series of views from our collections which were representative of local developments and then John went off with his camera and soon encountered the problems not met by the Edwardian photographers – traffic.
You can judge for yourselves how successfully the old views have been recreated.
Phil Cowley 2007
**SOLD OUT**
"Hi-De-Hi" Companion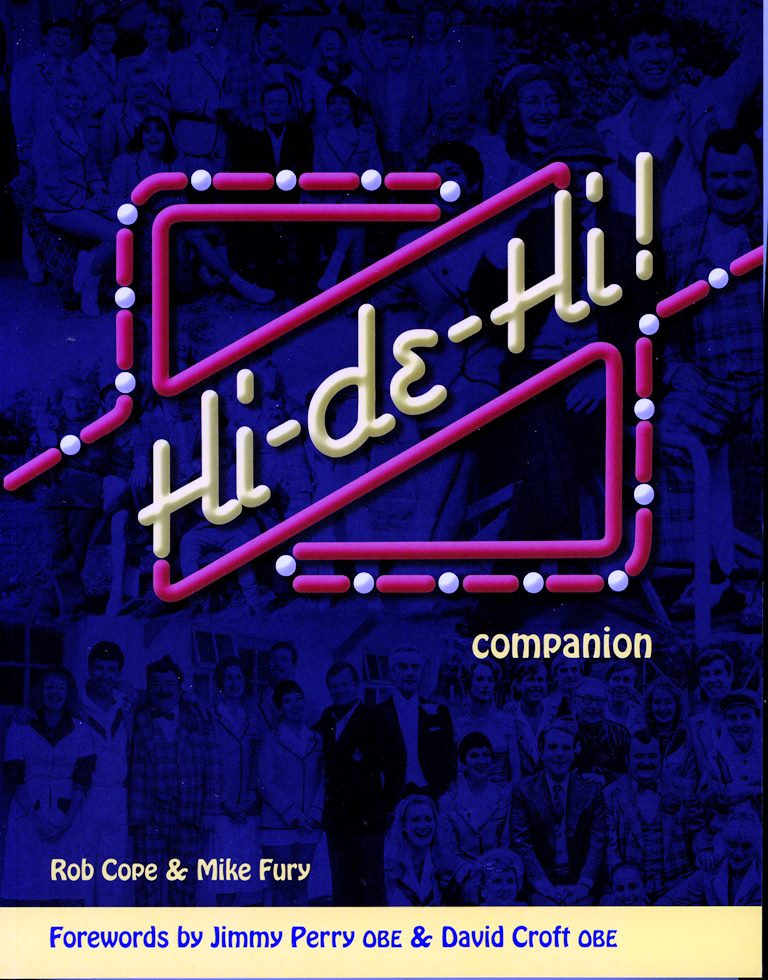 This long awaited book coincides with the 30th anniversary of the popular and award winning BBC sitcom, Hi-de-Hi! by Jimmy Perry and David Croft – writers of Dad's Army and It Ain't Half Hot Mum.
Written with full co-operation from the writers and cast members, this full colour book begins with an overview of the holiday camp movement before charting the history of the programme with many anecdotes from those who made and appeared in it.
Many of the images included are from personal collections and have never been seen before.
Cast biographies are included along with a complete episodes guide. Other chapters deal with costumes, the stage musical, behind the scenes and locations to name a few.
It doesn't end there. This is TWO books in one.
Flip the book over and you have a volume on 'You Rang M'Lord?'. This was Jimmy Perry and David Croft's last series, and by far the most sumptuous.
Based on an Edwardian household the show ran for four series before being pulling by the BBC. Running at 50 minutes, each episode was given time to develop.
The 'You Rang M'Lord' section covers all aspects of the series, with many never before seen photographs of the cast and behind the scenes images.
No Hi-de-Hi! or Perry and Croft fan should be without this book.
Locally delivered price £ 10.   email. hi-de-hi@sky.com
Available from Amazon price £ 15
Many of the images included are from personal collections and have never been seen before. Cast biographies are included along with a complete episodes guide.
Let's Go To The Pictures
David Cleveland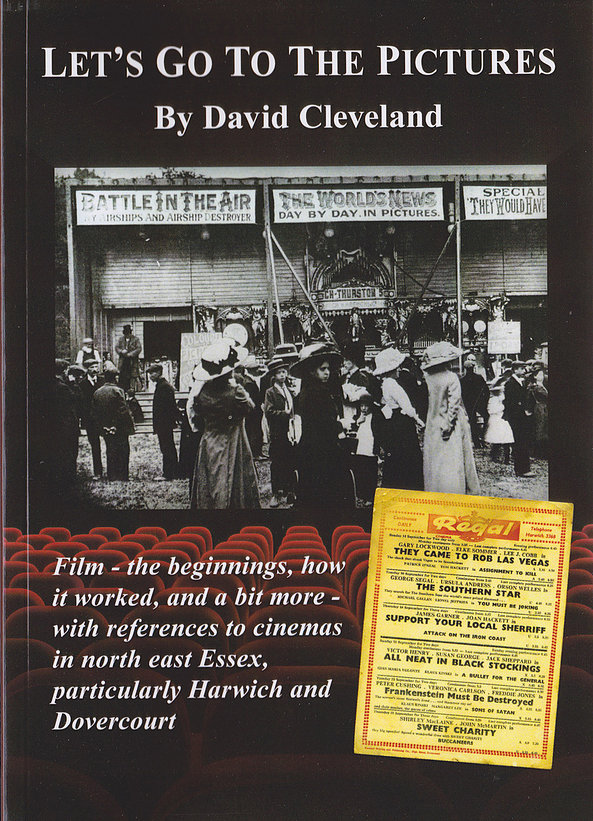 Let's Go To The Pictures is a 64 page fully illustrated history of cinemas in Dovercourt and Harwich,including references to those in Colchester, Manningtree and Wivenhoe.
The book looks at motion picture film and how it worked,and the technicalities of film projection.
The book costs £5, which will help towards the refurbishment of the Harwich Electric Palace cinema during the second part of 2018.
Available from: www.localeastanglianbooks.com
Accent Stationers, High Street, Dovercourt;
Wrabness Community Shop;
Townsends in Manningtree;
Red Lion Bookshop, Colchester;
and from the Electric Palace Cinema in Harwich.
Harwich & Dovercourt: the photographs of Alfred Smith
Standing on a narrow peninsula in north-east Essex, Harwich has had a long maritime history. The old port of Harwich with its fishing boats, the more modern terminal at Parkeston Quay and the promenade at Dovercourt are all reflected in the many photographs in this book. The majority of the images in this collection are of the 1960s and '70s and include photographs of shipping and quays, streets of the time, the Queen's visits, the Guy Carnival and sporting teams of the time. Harwich and Dovercourt has a very special character, as depicted in this fine compilation of photographs. Alfred worked for many years from Shaftesbury Avenue, Dovercourt. He became an acknowledged specialist in marine photography, his work being used in technical reports, books and shipping line brochures. Alfred Smith's negatives were the source of this compilation by David Kindred and Peter Goodwin.
The negatives were placed in the hands of the Harwich Society and after being stored in various places since Alfred's death were handed to David Kindred in 2009 for digitising and preservation.
100 Years of Parkeston Quay and its Ships
Philip J. Cone.
A History of Parkeston Quay and its ships. Built in 1883 by the Great Eastern Railway Company to dock six vessels at any one time serving the Company's Harwich – Antwerp service. Illustrated with photographs of many of the ships to have operated this service over the century. The author also describes the quay's development and expansion during 100 years. The Great Eastern Railway, which was formed from the merging of the Eastern Counties Railway and the Eastern Union Railway in 1862 operated passenger steamers across the North Sea from Harwich to Europe. By 1872, shipping trade had increased so that more capacity was required and the Great Eastern Railway obtained permission to reclaim land at Ray Farm, a mile to the west of Harwich, and build a new quay. The Chairman of the Great Eastern Railway Company, Charles Parkes Officially Opened Parkeston Quay on the 15th February 1883.
Tyrwhitt of the Harwich Force
A. Temple Patterson.
The forces Tyrwhitt commanded were called the Harwich Force during World War I. His leadership was highly regarded, and he led his ships at the Battle of Heligoland Bight and in the Cuxhaven Raid in 1914, and in the Battle of Dogger Bank in 1915. During the Battle of Jutland in 1916, the Admiralty held back Tyrwhitt's forces in case of a German attack on the coast. From 1927 to 1929, Tyrwhitt was Commander-in-Chief on the China Station during a period of disturbances and tension with the Nationalist Government, and became the senior British officer in the region.
During the First World War the names of Beatty, Keyes and Tyrwhitt stood for all that was most tenacious, active and daring in Britain's conduct of her war at sea. In this first full-length study of Tyrwhitt's life and career, A. Temple Patterson, the eminent naval historian and biographer of Jellicoe, triumphantly confirms Tyrwhitt's stature as one of England's greatest fighting admirals.
The 1953 Essex Flood Disaster: The People's Story.
Patricia Rennoldson Smith.
On a stormy evening in January 1953, Peggy Morgan kissed her five-year-old son goodnight, blissfully unaware of the impending catastrophe. Before sunrise the next morning the North Sea had destroyed her home and Peggy was a childless widow. There had been no prediction, no warning. Men, women and children lost their lives in Essex on that fateful night and the lives of survivors were changed forever. The lucky ones awoke when ice-cold seawater burst through their doors and windows. Those not so lucky slept on towards death. This book captures, in the words of the survivors, the essence of life in the low-lying coastal areas before the disaster. Those who lived tell how, with dogged determination, they prevailed against unimaginable adversity: their stories of courage and fortitude are told simply and without self-pity. And for the first time those who died have their story told.
The awe-inspiring and heartrending stories of survivors and victims of the 1953 Essex floods are told here for the first time.
Paperback. Price £ 12.99.  Available from www.amazon.co.uk
Rails Across The Sea
This book is a long overdue history of the train ferry service between Harwich and Zeebrugge, its precursors and its legacy. The author was intimately involved with the service as British Rail's Rolling Stock Inspector in Zeebrugge, and in researching this book, he has also drawn on the archives of friends and colleagues as well as official sources to produce an authoritative and well illustrated account.
Paperback
ISBN : 9781900340595
Pages : 80
Price £14.95
https://mainline-maritime.myshopify.com/products/rails-across-the-sea
Harwich and Dovercourt in the 20th Century
Philip J. Cone..
Brief history of Harwich and Dovercourt in the 20th century. This book is intended to cover a brief general 20th century history of Harwich and Dovercourt. People often say they have been put off history as a result of having to memorize dates whilst at school but if a researcher knows an approximate date, time searching for information at record office or newspaper office can be much reduced. This privately published book is perhaps the best, and far and away the most detailed read about Harwich & Dovercourt. Research for the book was undertaken using official documentation rather than using other people's book and articled, this avoids repeating other people's mistakes. Whilst every effort has been undertaken for complete accuracy only an arrogant person would say no mistakes have been made.
 The Penny Portrait
Harwich 1865. When Elle Buchanan is abandoned by her parents in her sixteenth year, she has no choice but to run from the leering eyes of their landlord. Earlham's beach in the town of Dovercourt, holds memories of her childhood and becomes her home. Hiding out in a rundown shepherd shack she takes stock of her life, and finds friendship in the form of a crippled male, Stanley. Through various friendships she is able to follow her love of art and earn from her skill. Under the guidance of Angus Argyle, a local art tutor, she thrives. His sharp eye spots a charcoal drawing in her portfolio, and knows the naked man Elle etched. She tells of how they met, and Angus sells the drawing to its model with the promise that they would say nothing.
Elle struggles with the loss of friends, friendship, and love. Growing up alone she is naïve, and her innocence loses her a love she so desperately seeks.
Will Elle have to give up her dream for love or will love find a way into her life?
Now available from Amazon on Kindle or Paperback. please follow the link below for more information.
http://www.amazon.co.uk/Glynis-Smy/e/B007SF7ZTY/ref=ntt_athr_dp_pel_1
Note from Glynis: I have returned home after several years abroad. It is great to walk the promenade once again.
My thanks to: http://www.harwichanddovercourt.co.uk/ for their inspirational website / Facebook page.
The local images they share helped my research whilst writing this book.
The Sea is a Bore
I'm delighted to announce a new book on Harwich and Dovercourt called 'The sea is a bore', it was written by Reinjan Mulder and is the story of his late father Piet Mulder who worked 20 years as an artist in Dovercourt. The book contains around 40 paintings made in Dovercourt, Harwich, Wrabness, Felixstowe, Pinn Mill and Shotley, plus 10 paintings of other places. In 1975, for the Dutch painter Piet Mulder (1919-2001) a new life began. Having had his studio in the heart of the Netherlands for 30 years, he bought a second studio in Dovercourt, on the east coast of England, with a view of the sea that stretched for miles.
Not that England was new to him. Following the liberation of the Netherlands in May 1945, Piet Mulder emerged emaciated from his hiding place only to be immediately taken on as a structural steel design engineer working for the Royal Engineers who remained behind in the Netherlands. It was their job to repair the important north-south rail connections. The Dutch railway network had been largely destroyed during the war. Of the 21 major railway bridges there had been in 1940, only six were still safe for trains by 1945.For more information, please contact Reinjan Mulder reinjanmulder@mac.com
The Guy Carnival Scrapbook.
The revised edition now has more pictures and stories. The book looks back at the carnival from its early days. The author's endeavour to research the event took 15 years, and included visits to newspaper archives, talking to countless people and borrowing or being given plethora of photographs.
Price £ 10.00
Available from from the author. hepburn_69@hotmail.com
Harwich, Dovercourt Parkeston & Ramsey
Packed with 80 pages with illustrations of long-gone local landmarks, buildings and transport, plus "your memories", filled with emotion and humour.
Available from the following local shops. Accent, Card corner, Handmade Gallery, St. Helena Hospice shop, Cliff Hotel and Upper Dovercourt Post Office.
Harwich Radio & Cycle Supplies, and Quirky Old Stuff – in Harwich.
SOLD OUT 
Also available from the Harwich Society, 1 Portland Crescent, Dovercourt, CO12 3QH. 01255 553610 P&P £ 3.00
Harwich Ferries
Harwich has long been associated with the sea and its port at Parkeston Quay has seen a worthy succession of ferries and other commercial vessels not only having been utilised in regular service across the North Sea but also in moving goods from around the world. Much of its acclaimed rise into being one of Britain's foremost ferry ports was due to the foresight and investment of the various railway companies that once owned it.  What follows is an account of the many major developments that occurred up until the end of the 1980s when both ownership by the railways and the scope of this book ends. This publication traces the history and development of the Port of Harwich. The book also looks at the services of the Port to Europe up until the end of the last centuary. A full fleet list of ships with detailed back ground information that have sailed in and out of Harwich.
Available direct from the author priced only £ 18.50.
Email. stephenab@aol.com